Stay up to date with all the latest in news right here with the team that shares your passion, JBR. If you have a piece of news or information that you feel should be part of our wide ranging coverage,
contact us today.
JIMMY PHELPS COLLECTS FIRST CAREER UTICA-ROME SPEEDWAY MODIFIED WIN IN A SPECIAL TRIBUTE TO FRIEND J.J MICHAELS
VERNON, NY- Sometimes things seem to happen for a reason or seem from a Hollywood script and this past Sunday evening at Utica-Rome Speedway, it was one of those nights. The speedway was honoring former driver J.J. Michaels and longtime family friend and relative Jimmy Phelps came in searching for his first ever Utica-Rome Speedway win and when the checkered flag dropped at the end of the 50 lap main event, it was a reunion between the Michaels family and Phelps as they celebrated his win in victory lane. The hard fought win was worth $5,000.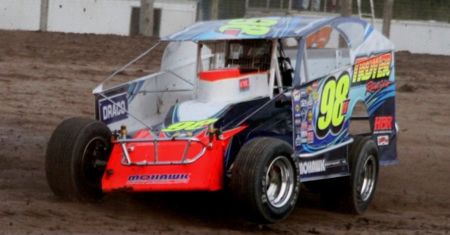 Tim Fuller jumped to the lead over the 28 car starting field at the start of the 50 lap feature with Alan Johnson and Brett Hearn in tow. Hearn slipped past Johnson went after Fuller, closing in and challenging by lap five. Fuller and Hearn battled out front with the battle for the remaining top five spots heating up between Stewart Friesen, Matt Sheppard, and Johnson. With 10 lap complete, Fuller was still being hounded by Hearn with Friesen, Sheppard, and Johnson filling out the top five.
Lap after lap, Hearn would dive underneath Fuller in a bid for the lead but Fuller would pull away from the top lane and while they continued their battle, there were five cars gaining on them in the form of Friesen, Sheppard, Johnson, Jimmy Phelps, and Billy Decker. Sheppard slipped by Friesen for third on lap 18 which put him on Hearn's tail. On lap 19 Hearn finally found the hole he was looking for and got underneath Fuller for the lead coming off turn two, but that was short lived as Sheppard got by both of them as they entered turn three and with 20 complete it was Sheppard over Hearn, Fuller, Johnson, and Friesen.
It was at this point when Phelps was making his charge as he cracked the top five on lap 24 and snagged the fourth spot on lap 26. A circuit later he climbed into the third spot behind Hearn and Sheppard with Johnson a very close fourth. With 30 laps down, it continued to be Sheppard in the front of the field with Phelps, Hearn, Johnson, and Fuller in tow with Billy Decker and Mike Mahaney trying to crack into the top five.
Sheppard continued to set the pace using the middle groove of the track with Phelps glued to the bottom as the pair drove underneath the flag stand to complete lap 34, they were side by side for the lead with Sheppard barely holding the spot. As they entered the turns one and two, Phelps was finally able to clear Sheppard for the lead with Hearn and Johnson just behind them waiting to pounce on any mistake they might make. The second and final caution of the night flew on lap 38 which bunched the field up one more time and on the restart, Phelps was up to the task as he pulled away from Sheppard and with 10 circuits remaining, it was Phelps over Sheppard, Hearn, Johnson, and Mike Mahaney who had charged from his 19th starting spot and into the top five.
From this point, Phelps seemed to have the top spot under control but the battle was on for the second spot between Hearn and Sheppard as they traded slide jobs in every turn. As Phelps collected the hard fought win at the checkered in the special Mothers Day event, Sheppard survived his crowd pleasing battle with Hearn to take the second spot with Johnson nipping Hearn at the line for third. Hearn had to settle for fourth with Mahaney coming home in the fifth spot. Early leader Fuller slipped back to sixth ahead of Decker, Ryan Phelps, Pat Ward, and Larry Wight filling out the top ten.
MODIFIED FEATURE FINISH (50 LAPS)-JIMMY PHELPS, Matt Sheppard, Alan Johnson, Brett Hearn, Mike Mahaney, Tim Fuller, Billy Decker, Ryan Phelps, Pat Ward, Larry Wight, Tim McCreadie, Stewart Friesen, Danny Johnson, Ronnie Johnson, Kenny Tremont, Todd Burley, Bobby Varin, Brian Murphy, Casey Williams, Dave Rauscher, Steve Hulsizer, AJ Romano, Willy Decker, Danny Varin, Jimmy Davis, Gary Tomkins, Robby Bellinger, and Jason Rood. DNQ-Shannon Whaley, Adam Roberts, Lance Willix, Phil Burkart Jr., Alan Barker, Ryan Godown, Matt Hulsizer, and Mike Bowman.